SEGA è fiera di annunciare che il SEGA Mega Drive Mini è da oggi disponibile! La mini console è basata sul Modello 1 del Mega Drive originale, lanciato nell'ottobre 1988 in Giappone, nell'agosto 1989 in Nord America e nel 1990 in tutto il mondo ed è più piccola del 55% rispetto al SEGA Mega Drive.
---
Per la prima volta i giocatori potranno divertirsi con 42 giochi classici, tra cui: Darius, Earthworm Jim, Alisia Dragoon, Monster World IV, Probector, Castlevania: The New Generation, Mega Man: The Wily Wars, e molti altri!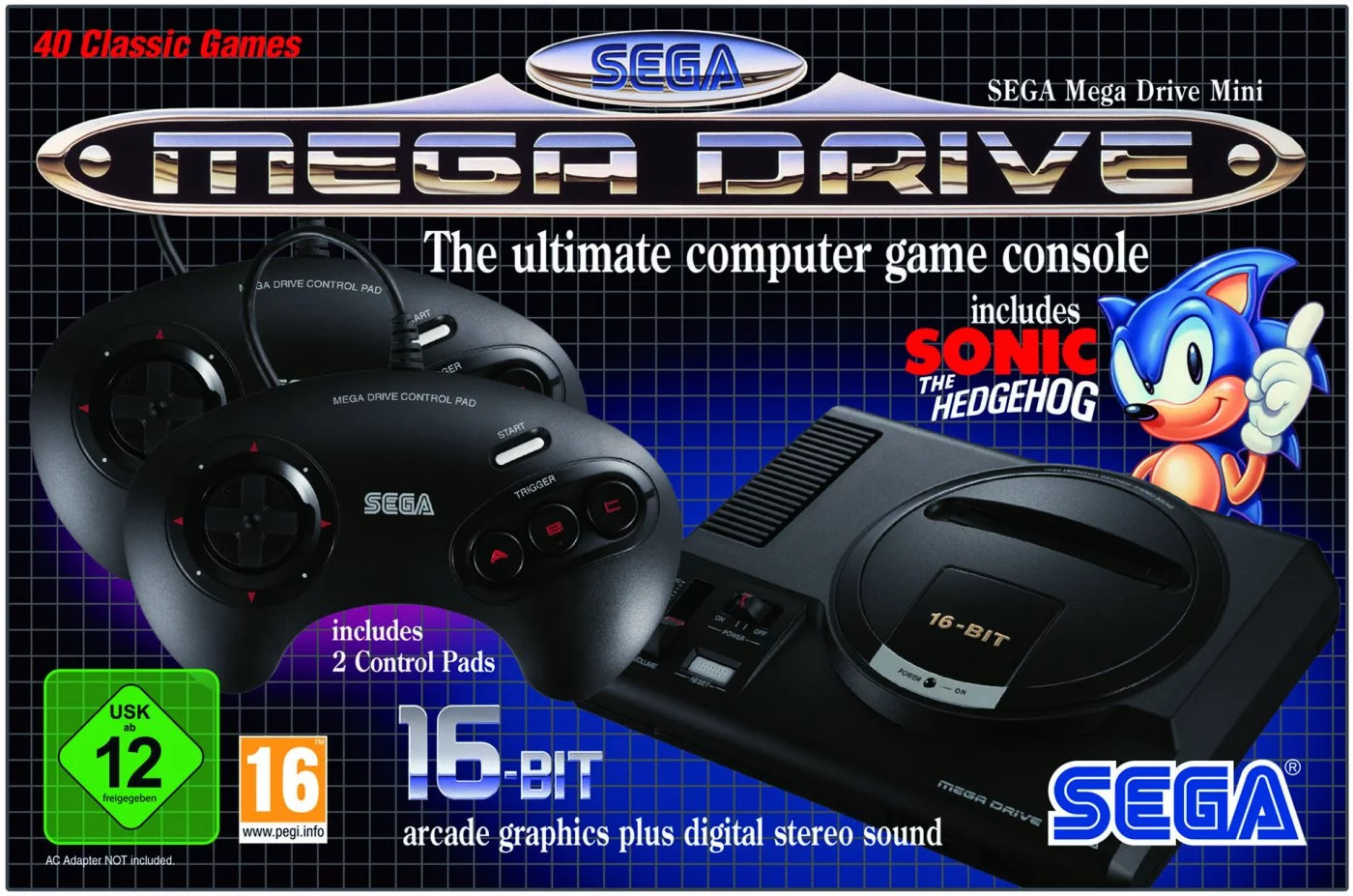 Il Mega Drive Mini comprende anche due riproduzioni USB dei controller del Mega Drive a tre pulsanti, un cavo di alimentazione Micro-B USB (adattatore AC NON inclusi) e un cavo HDMI. Ecco la lista completa dei 42 titoli inclusi nel sistema:
---
Sonic the Hedgehog;
Ecco the Dolphin;
Castlevania : The New Generation;
Space Harrier 2;
Shining Force;
Dr. Robotnik's Mean Bean Machine;
ToeJam & Earl;
Comix Zone;
Altered Beast;
Gunstar Heroes;
Castle of Illusion Starring Mickey Mouse;
World of Illusion Starring Mickey Mouse and Donald Duck;
Thunder Force III;
Super Fantasy Zone;
Shinobi III;
Streets of Rage 2;
Earthworm Jim;
Sonic the Hedgehog 2;
Probector;
Landstalker;
Mega Man: The Wily Wars;
Street Fighter II': Special Champion Edition;
Ghouls 'n Ghosts;
Alex Kidd in the Enchanted Castle;
The Story of Thor;
Golden Axe;
Phantasy Star IV: The End of the Millennium;
Sonic the Hedgehog Spinball;
Vectorman;
Wonder Boy in Monster World;
Tetris;
Darius;
Road Rash II;
Strider;
Virtua Fighter 2;
Alisia Dragoon;
Kid Chameleon;
Monster World IV;
Eternal Champions;
Columns;
Dynamite Headdy;
Light Crusader.
---
---
[amazon_link asins='B07NVMYB7K' template='ProductCarousel' store='hwl-games-21′ marketplace='IT' link_id='aac5c13a-9939-4d70-92e8-5c02ec4c5dca']
---
Manguste E-Sports Teams