CyberLink ha presentato il CyberLink Media Suite 9, l'ultimo software All-in-One che rappresenta una soluzione di intrattenimento a 360°, che grazie all'unione di 12 prodotti software fornisce tutto il necessario per giocare, creare e condividere i media digitali.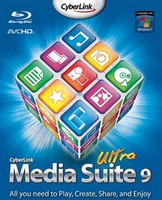 Inoltre è presente un software per la conversione dei media per trasferire i file su smart phone e dispositivi portatili dando agli utenti una soluzione completa per il "Digital Life". CyberLink Media Suite 9 è ora disponibile in una versione Ultra per 129,95 $, la versione Pro per $ 99,95 e la versione Centra per $ 69.95.
Un breve riepilogo delle principali caratteristiche:
Blu-ray, and Blu-ray 3D movie playback.
DVDs, and videos upscale to HD-like quality with TrueTheaterTM HD and Stereoscopic 3D with TrueTheater 3D.
Complete video editing features with unique particle effects; more consumer video enhancement tools; and more types of free templates downloadable from Directorzone.
Ultra fast video processing with optimization with the latest CPU and GPU hardware acceleration.
Extend media entertainment to devices by offering a new high speed media converter to convert videos, photos and music to a broad range of smart phones, portable devices and media players.
Support for the new BDXL format playback, data burning and video disc authoring.
Support 256-bit disc burning encryption to protect content on discs.
Free disc label designs that can be downloaded free from DirectorZone.
Edoardo G. – Slime – HW Legend Staff